What's Hot and What's Not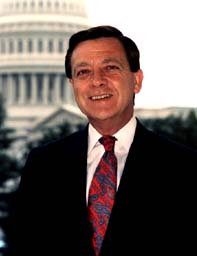 Volume 24 Issue 11
November 2018
---
By:
U.S. Senator John Seymour (ret.)
NATIONAL ECONOMY: According to the U.S. Department of Commerce, our economy continued to "hum" in the third quarter of this year with our Gross Domestic Product (GDP) growing at a rate of 3.5%. That growth rate follows second-quarter growth at a rate of 4.2%.
Expectations for the full year of 2018 are for GDP to achieve a 3% to 3.5% growth rate. However, the Federal Reserve is projecting GDP growth in 2019 to slow to 2.5% and 2.0% in 2020.
Some "softening" signs support the notion that 2019 may see a slowing economy. More than a third of U.S. corporations report missing their revenue projections. Business investment grew at a modest pace of 0.8%
The tariff impositions by President Trump have begun to take their toll on the economy. To date, the President has imposed $250 billion worth of tariffs on China. China has retaliated with $50 billion of tariffs on U.S. soybeans, corn, beef, dairy, autos, and aircraft. Caterpillar Corporation reports a $40 million loss this year due to tariffs and a projected $100 to $200 million loss in 2019.
The U.S. Department of Labor Statistics reports the lowest unemployment rate in 49 years at 3.7% in September and an increase of 0.2% in personal income after an increase of 0.4% in August. Wages and salaries rose 0.2% in September after a 0.5% increase in August.
THE FED WATCH & MORTGAGE RATES: Federal Reserve Chairman, Jerome Powell and his Federal Open Markets Committee (FOMC) next meet on November 7th and 8th. Expectations are that they will leave the Fed Funds Rate unchanged; however, they are likely to raise the Federal Reserve borrowing rate from the existing 2% - 2.25% to 2.25% - 2.5% in December. According to the Mortgage Bankers Association (MBA), the average mortgage rate for a 30-year fixed-rate mortgage, with a 20% cash down payment rose to 5.11% for the week ending October 24th.
The average mortgage rate for a 30-year fixed rate "Jumbo" loan, greater than $453,100 rose to 5.01% with a 20% cash down payment. The average mortgage rate for an FHA loan rose to 5.07%, up from 4.99%. The average mortgage rate for an Adjustable Rate Mortgage (ARM) rose to its highest level since 2011, 4.47% up from September's ARM rate of 4.34%.
AMERICA'S GREAT DIVIDE: Not in recent history have the American political divisions, on both the left and the right become so unhinged, violent, and hateful. The far left of the Democrat Party have separated themselves in both words and actions from the moderate segment of the historical Democrats.
James Hodgkinson, a self-proclaimed Republican hater attacked Republican Congressional members as they practiced softball. Hodgkinson fired over 60 rounds from an automatic rifle and nearly killing Congressman Scalise while wounding numerous others. Cesar Sayoc, a self-proclaimed Democrat hater and avid Trump supporter mailed 14 "pipe bombs" to leading Democrats including former President Obama and Vice-President Joe Biden.
Sayoc allegedly made the pipe bombs in his van, which was totally covered with Trump political material. An extremist Democrat political group entitles their Facebook page "Terminate The Republican Party."
Robert Bowers, allegedly, armed with 3 handguns and an automatic rifle killed 11 people firing over 60 shots in a Jewish Temple in Squirrel Hill, Pennsylvania. Bowers is a self-proclaimed "White Nationalist" who used the social media website, "Gab" to spew his anti-semantic hate for all Jews. Gab provides a social network for far-right activists such as the Neo-Nazis and White Nationalists. The technology available on Twitter, Facebook and other social media provide the extremists, both left and right, with the anonymity behind which they are able to spew their anger and hate without accountability.
Now is the time for our nation's political and religious leaders to speak out against and isolate the extremist groups in both the Democrat and Republican parties.
Donald Trump, in my opinion, has done a remarkable and outstanding job in leading the tax reform movement and business deregulation effort. His judicial appointments have been outstanding and unparalleled. However, his political rhetoric used in Twitter and political rallies fuel much of the anger and hate upon which far-right extremists feed.
President Trump is a very intelligent and charismatic leader and is totally capable of changing the public dialogue to quell the nation's divisiveness. Our political leaders in Congress need to set the public tone in their debates. They need to agree to disagree in a manner that is supportive of a respectful dialogue, eliminating the hateful and insightful conduct aimed at destroying their political opponents.
The media, likewise, is capable of re-directing their written and electronic news coverage to condemn the anger and hate emanating from both the far-left and far right. Their sensationalizing the political mob mentality and violence only throws gasoline on the fires of anger, hate, and hostility.
I don't expect our religious leaders to become involved politically; however, they can and should use their pulpits to encourage a more respectful dialogue with those with whom we may have disagreements. Perhaps when we move beyond the elections, next week, the political rhetoric will become less hateful.
MID-TERM ELECTIONS: With less than a week before voters go to their polls, the potential outcomes are becoming more clear. Although too many races in the house of representatives are too close to call, most political opinion polls suggest that the Democrats are close to regaining a the majority in the house. Democrats need to pickup 23 additional seats in order to become the majority.
Mid-term election history points to a change in control in the House of Representatives. Not since the Civil War has the President's party been able to maintain a majority in the House of Representatives at a mid-term election. Current polls predict the Democrats will pickup 29 or 30 seats in the House and gain control. In the Senate, where the Republicans currently hold a majority, 51 – 49, 33 seats are up for grabs; however, of the 33 seats, Democrats currently hold 26 of them, including 2 Independents, who vote and caucus with the Democrats.
The Republicans currently hold nine of the 33 seats with three seats open and no incumbent in Utah, Arizona, and Tennessee. Most political opinion polls favor the Republicans in maintaining their majority in the Senate. It would appear that President Trump will need to find a way to get the support of six or more Democrats in the House or face "gridlock" in his remaining two years of this term.
CALIFORNIA ECONOMY STATE GOVERNMENT: The State Department for Economic Development (EDD) reports that the unemployment rate for September was 4.1%, that's down from 4.5% in August. 13,200 new jobs were created in the Golden State for September. Sectors leading in the September job creation were Profession & Business Services, 11,800 new jobs. Leisure and Hospitality created 8,500, the government added 5,100 new jobs. Sectors that lost jobs during September were Education & Health, 3,000, Information & Technology lost 3,000 jobs and Construction lost 2,000 jobs.
Five counties with the lowest unemployment rates were:
San Mateo__2.1%, San Francisco__2.2%, Marin__2.2%, Santa Clara__2.4%, Sonoma__2.4%
Five counties with the highest unemployment rates were:
Imperial__19.3%, Colusa__7.1%, Kern__6.6%, Kings__6.0%, Merced__5.9%
Governor Brown signed two bills that will "fast track" the construction of new stadiums for the Los Angeles Clippers and the Oakland Athletics. It is beyond my comprehension how our state government and Governor will remove the "Red Tape" of the California Environmental Quality Act (CEQA) for the construction of new stadiums but they don't have the political will to do the same in order to speed up the process for new housing.
NATIONAL HOUSING MARKET: According to the National Association of Homebuilders (NAHB), sales of newly built homes fell 5.5% in September compared to the previous month of August. This is the slowest pace since December of 2016; however, it is up by 3.5% when compared to September of 2017. The median price of a new home in September was $320,000 compared to one year ago. The unsold inventory of new homes in September was 327,000 units.
The National Association of Realtors (NAR) reports that their Pending Home Sales Index increased by 0.5% in September to 104.6. That's up from 104.1 in the previous month. The Pending Home Sales Index reflects existing homes under sales contracts but not yet closed in escrow. When compared to one year ago, the Index was down by 1.0%, making it the ninth consecutive month of sales declines. NAR's Chief Economist, Lawrence Yun, blames higher home prices and higher mortgage loan rates for the faltering existing home sales.
CALIFORNIA HOUSING MARKET: The California Association of Realtors (CAR) reports that sales of existing homes during the month of September declined by 4.3% when compared to the previous month of August and down 12.4% when compared to September of 2017. Year to date, existing home sales are down 3.3% compared to last year.
September's statewide median-priced home sold for $578,850. That's down by 2.9% compared to August of this year; however, it is up by 4.2% when compared to September of 2017. The number of existing homes for sale have increased in September by 20.4% compared to September of 2017, and the number of new listings in September represents the sixth consecutive month with an increase of new listings. Unsold inventories for existing homes in September represented a 4.2 months' supply given the current sales pace. Unsold inventories are at their highest levels in the last 31 months.
CAR President, Steve White opined that "The housing market continued to deteriorate and the decline in sales worsened as interest rates remained on an upward trend. More would-be buyers are self-sidelining as they believe home prices will start to come down soon, making housing more affordable despite rising interest rates."
The Unsold Inventory Index which measures the changes in the supply of existing homes for sale rose again in September from 3.3 months in September of 2017 to 4.2 months in September of 2018. CAR's statewide sales price-to-list price hit the lowest level in 20 months during September; however, it was down from a year ago at 98.5 percent in September of this year compared to 99.1 percent in September of 2017.
The five California counties with the Highest Price increases over the past year are:
Tehama__18.9%, San Mateo__14.2%, San Francisco__11.7%, Marin__11.6%, Ventura__10.6%
The five California counties with the Lowest Price increases over the past year are:
Del Norte__-8.6%, Yuba__-6.3%, Plumas__-3.6%, Calaveras__-3.5%, Humboldt__-3.1%
CALIFORNIA HOUSING FORECAST – 2019: CAR's Chief Economist, Leslie Appleton Young forecasts that a modest decline of 3.2% in existing home sales will occur in 2019 compared to projected sales in this year. The California median home price is forecast to increase by 3.1 percent to $593,450 in 2019 compared to this year.
Existing California homeowners are migrating out of state and to other California counties due to affordability issues. CAR's State of the housing market study of 2018 reports that 28 percent of homebuyers moved out of the county in which they previously resided. That's up from 21% in 2017. In the expensive areas in the state such as the Bay Area, 35% of homebuyers moved out of the county because of housing affordability issues.
DISCLAIMER: The opinions expressed herein are solely those of the author and should not, in any way, be attributed to the management nor employees of Orange Coast Title nor any of its subsidiaries or affiliates.

SOURCES: LA Times, OC Register, Fresno Bee, Sacramento Bee, San Bernardino Sun, San Diego Tribune, The Desert Sun, Wall Street Journal, NAR, CAR, NAHB, MBA, CBIA, & CMBA.