What's Hot and What's Not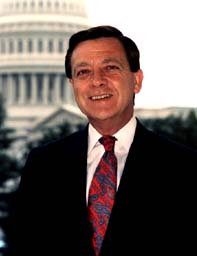 Volume 24 Issue 8
August 2018
---
By:
U.S. Senator John Seymour (ret.)
NATIONAL ECONOMY: 213,000 new jobs were created in June and the unemployment rate rose to 4.0%. That's up from 3.8% in the month of May.
Gross Domestic Product (GDP) grew at a very healthy rate of 4.1% during the second quarter of this year. GDP growth for the first quarter was revised to 2.2% according to the U.S. Department of Commerce.
President Trump deserves to take a "victory lap" for economic performance stimulated by his federal tax cuts and reduction in unnecessary federal regulations. Expectations for GDP growth for the full year of 2018 are 3% to 3.5%.
American consumers "opened" their pocketbooks in the month of June resulting in a 6.6% increase in spending compared to June of 2017. Spending was up 0.5% compared to the previous month of May.
One of the world's greatest shoppers, my wife Judy, personally led the way with a "full charge" on the credit cards, coupon cash-ins, and Amazon deliveries that caused a front door pileup. When challenged with her spending spree, she replied that somebody had to lead the way and that she was sacrificing herself for the greater good and betterment of mankind.
The Consumer Price Index (CPI) rose 0.1% to 2.9%, in the month of June, compared to the previous month.
ECONOMIC IMPACT FOR CYBER-CRIME & CYBER-TERRORISM: Approximately $1.5 billion was lost to online credit and debit card fraud committed in the U.S. in the year of 2012. According to a study completed by Juniper Research, costs for U.S. Cyber-Crime could be as high as $2.1 trillion in 2019. Facebook recently reported that they are projecting a company expense of over $1 billion and the hiring of 10,000 new employees to fight cyber-crime in their company.
Russian hackers penetrated hundreds of U.S. utilities, manufacturing plants, and other facilities last year, by using the most conventional of phishing tools, tricking staffers into entering passwords, according to Jonathan Homer, head of Homeland Security's industrial control system analysis.
Fending off the Russian hacks of the mid-term elections is but a small part of the cyber-crime and terrorism being perpetrated on U.S. cyber-systems.
With all the intelligence available on Russian cyber-hacking, it is befuddling to me how our President can ignore what his national security team has continually reported to him.
Befriending Vladimir Putin sends the wrong message to the Russian despot. President Trump should be dramatically increasing economic sanctions against Russia until Putin calls off his "Cyber-Attack" dogs. Inside the "velvet glove" of diplomacy should be the iron fist of retaliation. White House "teas" with Putin, just won't cut it.
The Department of Homeland Security (DHS) has announced that they have formed a new center aimed at guarding our nation's banks, energy companies, and other industries against cyber-attacks that could cripple U. S. infrastructure.
TRADE WARS: The first sign of the negative economic impact of President Trump's trade wars, was felt when he promised $12 billion in agriculture subsidies to farmers being hurt by European imports of our soybeans and beef.
Unless the President backs off the threat of tariffs on imported automobiles, our automobile manufacturers will soon need their own bailout. Capitalism, in today's world, knows no territorial boundaries. If General Motors can get carburetors built less expensively in Tasmania, their importation will make their vehicles more saleable and their employees building more cars.
Placing tariffs on aluminum and steel may make some steelworkers feel better, however; it will cause the price of American products using "aluminum cans" to rise. Who pays, Mr. President? The American consumer pays…
The sooner the President understands that the American economy is actually an "international" American economy and it is not as simplistic as negotiating a highly-leveraged real estate deal, the more stable our economy will become.
THE FED WATCH & MORTGAGE RATES: FED Chairman James Powell and his Federal Open Markets Committee (FOMC) are meeting as I write this newsletter. Expectations are that they will raise the borrowing rate to member bank borrowings by 0.25% to 2% - 2.50%.
As of July 24, the mortgage rate on a 30-year fixed rate loan with a 20% cash down payment, remained at 4.77% with a .45% loan origination fee. The next meeting of the FOMC is scheduled for September 25 & 26.
NATIONAL HOUSING MARKET: Overall, the national housing market remains in a "funk." Supply of both new and existing homes for sale remain at historic low levels. Prices on sold homes continue to rise, making the purchase more difficult. Mortgage rates continue to "inch" up, making loan qualifications more challenging. Loans to homebuilders continue to be very restrictive, limiting new construction to being built in "phases."
According to the National Association of Homebuilders (NAHB), new home construction starts were down 12.3% in June compared to the previous month of May. New home sales were down 5.3% during the month of June compared to May.
According to the National Association of Realtors (NAR), sales were down 0.6% in June, compared to May and down 2% compared to June of 2017. The median-priced home sold for $276,900, that's up 5.2% from June of 2017.
Unsold inventories of existing homes for sale in June was a 4.3 months' supply at the current sales pace.
CALIFORNIA ECONOMY: According to the California Employment Development Department (EDD), the California Unemployment Rate held steady in the month of June at 4.2%. A net gain of 800 new jobs were created in June.
Four of California's eleven industry sectors added a total of 16,200 new jobs. Education and Health Services reported the largest new jobs gains at 8,000. Information and technology followed with 4,600 and government provided 3,500 new hires.
Seven of California's industries reported June job losses. Leisure & Hospitality lost 4,000 jobs, followed by construction with 2,900 jobs lost. Trade, transportation, and utilities were down 2,600 jobs and financial activities were down 2,300.
The five California counties posting the lowest unemployment rates in the month of June were:
San Mateo 2.5%
Marin 2.7%
Napa 3.1%
San Luis Obispo 3.3%
Orange 3.3%

The five counties posting the highest unemployment rates in the month of June were:
Imperial 18.0%
Colusa 11.9%
Kern 8.7%
Kings 8.2%
Madera 7.4%

THE GOLDEN STATE HAS TARNISHED: If California were a country, it would rank as the 5th largest economy in the world. Embarrassingly, California has the Country's largest percentage of its population living in poverty.
According to the U.S. Census Bureau, California has 23.4% of its population living below the national poverty level. Only Nevada and Washington D.C. are close with 20% and 22.4% living in poverty. The California counties with the highest poverty rates are Los Angeles at 26.9% and Napa at 25.5%. El Dorado County has the lowest percentage of its population living in poverty at 11.8%.
Of course, it should come as no surprise that California ranks number one in the country when it comes to being home to the homeless. The five Counties with the highest percentage of their population living below the poverty level are:
Los Angeles 24.3%
Santa Cruz 23.8%
Santa Barbara 23.0%
Orange 20.9%
San Diego 20.1%

At the root of California's poverty ranking is the high cost of housing and the lack of higher paying jobs. California's median-priced home is $602,760. California's median rent for an apartment is $1,750 per month for a one bedroom and $2,110 per month for a two bedroom.
Over 3 million households are paying 30% of their incomes for rent and 1.5 million households are paying 50% or more of their monthly incomes for rent.
Historically, 25% of a family's monthly income for housing has been considered sustainable.
An annual income of $95,000 is needed to qualify for a home purchase of a townhouse or condominium. An annual income of $115,000 is needed to buy the median-priced existing home with a 20% cash down payment. cojones
The answers to California's housing crisis are not complicated; however, they require statewide political leadership with "cojones" (testicles). How is it that San Francisco and Los Angeles were able to waive "all" environmental building laws and regulations in order to "fast-track" construction of new sporting and entertainment stadiums? The answer is that they "wanted" to.
Governor Brown and the State's Housing Development Department completed an in-depth study of California's housing crisis in January of 2017 and concluded that the single most effective thing that state and local and state government can do is to eliminate the environmental red tape caused by The California Environmental Quality Act.
In 1980, when I was President of the California Association of Realtors, we completed a study of the "Housing Crisis" and concluded that the one single act that California could take in order to solve the housing crisis was to cut the unnecessary red-tape and delays in processing raw land for housing developments.
Jerry Brown has served 4 terms (16 years) as Governor and, beyond the aforementioned "study," Brown has done nothing…nada…zilcho…to assist the housing crisis. In addition to providing affordable housing, more high-paying jobs would enable California's "working poor" to better afford adequate housing.
Since California is the highest taxing state in the nation and has the greatest number of environmental regulations restricting business development, state legislative leaders need to have the courage to provide tax benefits and regulatory incentives that encourage more, higher paying jobs.
While California struggles to survive a 3rd world country status, our political leaders are focused on "bullet trains" and "single-payer health care."
CALIFORNIA HOUSING MARKET: The California Association of Realtors (CAR) reported that existing home sales in June rose 0.4% compared to the previous month and were down 7.3% compared to June of 2017. The price for the median-priced home in June, rose 0.3% to $602,760, compared to May and 8.5% compared to June of 2017. The price for the median priced condominium or townhouse rose 7.0% in June and saw a 7.1% decline in sales.
The unsold inventory of homes for sale in June was a 3.0 months' supply at the current sales pace. Historically, a 6.0 months' supply of existing homes for sale is considered to provide a "stable market."
DISCLAIMER: The opinions expressed herein are solely those of the author and should not, in any way, be attributed to the management nor employees of Orange Coast Title nor any of its subsidiaries or affiliates.

SOURCES: LA Times, OC Register, Fresno Bee, Sacramento Bee, San Bernardino Sun, San Diego Tribune, Wall Street Journal, NAR, CAR, NAHB, MBA, CBIA, & CMBA.