What's Hot and What's Not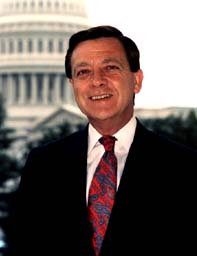 Volume 24 Issue 10
October 2018
---
By:
U.S. Senator John Seymour (ret.)
NATIONAL ECONOMY: According to the U.S. Commerce Department, the final estimate for second quarter Gross Domestic Product, (GDP) was 4.2%. Expectations for the third quarter of this year are 3.8% with an increase in our trade deficit to $75.8 billion in August versus $72 billion in July. Longer range estimates for GDP growth in 2019 are 3.5%.
Inflation growth was "flat" in August compared to the previous month of July and remained at the Federal Reserve's "target" of 2%.
The President's tariffs and trade wars have, to date, begun to minimally impact the U.S. economy; however, expectations are for greater negative economic impacts in the near future, should the tariffs continue.
THE FED WATCH & MORTGAGE RATES: Federal Reserve Board Chairman, Jerome Powell and his Federal Open Markets Committee met on September 25th and 26th and decided to increase the Fed Funds interest rate by 0.25% to a range of 2% to 2.5%.
They next meet on November 7 and November 8. Further Fed rate increases are expected in the first or second quarters of next year.
Responding to the Fed rate increases, FreddieMac reported a rise in the conforming 30-year fixed-rate mortgage to 4.97%. This assumes a 20% cash down payment.
SUPREME COURT APPOINTMENT CHAOS: The nomination of Judge Brett Kavanaugh to the United States Supreme Court has resulted in total political chaos, perhaps, even worse than the unsettling confirmation of Supreme Court Justice, Clarence Thomas.
Shortly after I was sworn in as a U.S. Senator in January of 1991, I was invited to the White House to be welcomed by President H.W. Bush.
Once the official welcome words were completed, the President was most interested in how I would vote on (1) The Senate Resolution to go to war with Saddam Hussein and Iraq, and (2) The confirmation of nominated Supreme Court Justice, Clarence Thomas.
My concerns with the Iraq War Resolution were that our troops could get mired in a long-term conflict , such as Korea and Vietnam. The President assured me that he was prepared to order the use of "overwhelming" force in bringing an end to the regime of Saddam Hussein.
With that assurance, I assured the President of my support for the war with Iraq. The Senate vote was very close and passed by a 52-47 margin. The invasion of Iraq was "overwhelming" and Saddam Hussein was removed from power.
As to the President's request to support the confirmation of Judge Clarence Thomas, I told the President that I was undecided until I had the opportunity to meet personally with Judge Thomas and further observe the Senate Confirmation hearings.
My personal meeting with Judge Thomas was very positive. I was impressed with his experience and judicial record.
The Senate Confirmation hearings for Judge Clarence Thomas became a political circus when Anita Hill, his long-time staff member came forth to accuse him of sexual harassment.
Without any witnesses to confirm or deny the sexual harassment charges, the confirmation process became a "she said, he said" question.
At the conclusion of the Senate hearings, I decided to vote for Justice Thomas's confirmation. The final Senate vote was 52–48 to confirm. The senate roll call included 11 Democrats and 41 Republicans in favor of Justice Thomas.
Although the Senate hearings for the confirmation of Justice Brett Kavanaugh were similar to the Clarence Thomas confirmation, in the alleged sexual harassment charges, the raw and bitter political partisanship demonstrated in the Kavanaugh hearings has been "over the top."
The testimony of Dr. Christine Blasey Ford was compelling but without any corroboration of witnesses.
The interrogation of Judge Kavanaugh was disgraceful and totally unprofessional. The questioning regarding his "beer drinking" and high-school yearbook went far beyond his qualifications to be named to the U.S. Supreme Court.
Questions regarding Dr. Ford's accusations are and were totally appropriate; however, the questions in regard to how much beer he drank in high school and what he wrote in his high school yearbook shed "zero" on his judicial qualifications some 36 plus years later.
If I had to defend my immature and sometimes "stupid" record of high school antics, I doubt that I could get appointed "dog catcher."
The nasty, unprofessional, and demeaning interrogation of anyone by an elected body only ensures that many very qualified people will refuse public service and reject the deplorable destruction of one's family, reputation and career.
Sadly, the entire Senate confirmation process further exemplified today's total lack of society's civil discourse and inability to disagree in an agreeable fashion.
Hopefully, the Kavanaugh Senate confirmation hearings will represent the bottom of this cycle of mean-spirited and hateful discourse.
I will be surprised if the pending FBI investigation will discover anything meaningful to Kavanaugh's confirmation and further believe that his nomination will be narrowly approved by the full Senate.
CALIFORNIA BALLOT PROPOSITIONS: For my California readers, I offer my opinions and recommendations on the propositions for the elections to be held on November 6, 2018.
| | | | |
| --- | --- | --- | --- |
| Proposition | Subject | Recommended Vote | Reasoning For Vote |
| 1 | Authorizes $4 billion bonds for housing. | Yes | Affordable housing shortage. |
| 2 | Authorizes $2 billion bonds for housing for the mentally ill. | Yes | Will help reduce homelessness. |
| 3 | Authorizes $8.877 billion bonds for water projects. | Yes | Although $7.5 billion in bonds were approved 4 years ago, little has been pent; however the need continues. |
| 4 | Authorizes $1.5 billion to build children's hospitals. | Yes | The need is obvious. |
| 5 | Expands Prop 13 tax protections for Seniors. | Yes | Senior homeowners deserve it. |
| 6 | Repeals recent gas tax increases and permits. | Yes | Voters should approve any gas tax increases. |
| 7 | Eliminate Daylight Savings Time. | Yes | Long overdue to eliminate. |
| 8 | Threatens closure of Kidney Dialysis Clinics. | No | Places more controls on clinics |
| 10 | Expands rent controls. | No | Reduces housing supply. |
| 11 | Reduces on-call emergency personnel. | No | No need for restrictions on emergency personnel. |
| 12 | Increases standards to protect chickens, pigs, and calves. | No | Increases food costs. |
NATIONAL & CALIFORNIA HOUSING MARKETS: Existing home sales, nationally, dropped 1.8% in August, compared to the previous month of July. It was the 8th consecutive month that the National Association of Realtors (NAR) reported a decline in home sales.
New home sales rose 3.5% in August compared to July; however, new homebuilders are reporting a slowing in potential buyer traffic.
The California Association of Realtors (CAR) reports that August sales of existing home sales dropped 6.6%. That's the 5th consecutive month in which sales have decreased.
Listings of existing homes for sale rose 17.2% during the month of August.
The median price of an existing-home sale in August was $596,410, that's up 0.8% from the previous month and up 5.5% compared to August of 2017.
The unsold inventory index rose again in August from a 2.9 months' supply in August 2017 to a 3.3 months' supply in August of this year.
CALIFORNIA ECONOMY & STATE GOVERNMENT: The Golden State added 44,800 new jobs during the month of August, and the state's unemployment rate remained steady at 4.2% for the fifth consecutive month.
The largest job gains were 18,700 in education and health, followed by professional and business services with 7,700 new jobs. Construction added 5,200 new jobs. Trade, transportation, and utilities added 4,700 new jobs.
Manufacturing and logging reported job losses of 800 and 100 jobs.
The top five counties with the lowest unemployment rates were:
| | |
| --- | --- |
| San Mateo | 2.3% |
| Marin | 2.4% |
| San Francisco | 2.4% |
| Santa Clara | 2.6% |
| Napa | 2.8% |
The top five counties with the highest unemployment rates were:
| | |
| --- | --- |
| Imperial | 20.3% |
| Tulare | 8.7% |
| Colusa | 8.2% |
| Kern | 7.3% |
| Kings | 6.7% |
The California Legislature was hard at work this year. Among the hundreds of new laws, were the legalization to smoke weed, required diaper change stations in public men's restrooms, free tampons in schools 6 through 12, and employers required to allow 3 months' paid maternity leave in businesses with more than 20 employees.
NATIONAL ELECTIONS: With just 37 days before the November elections, prospects for the Democrats to regain control with a majority in the House of Representatives are in their favor.
In order to gain a majority with 218 seats, the Democrats need to hold their current number of seats - 194 and pick up 24 more.
As we go to press most legitimate polls favor a Democrat victory with a 25% better chance than the Republicans.
Over in the Senate with 9 Republican seats up for re-election, and 24 Democrat seats up for election, the Republican chances for a continuing majority appear to be in their favor; however, recent polls show a narrowing of the odds that the Republicans will maintain their majority.
President Trump is hard at work in campaigning for Republicans in states where he ran strong in 2016. He is doing an average of four political rallies per week.
Senators up for election are more nervous than a "cat on a hot tin roof." Faced with a confirmation vote for Brett Kavanaugh's appointment to the Supreme Court, they are closely watching public opinion in their states and how their vote could impact their election.
My personal opinion of the election outcome is that the Democrats win a majority in the House of Representatives and the Republicans hold on to a slim majority in the Senate.
If the predicted election outcomes become reality, the next two years will increase the bitter partisan politics and ensure that little of "the people's work" gets accomplished. Mark Twain is quoted as saying, "No man's life, liberty or property is safe when Congress is in session."
It's sad, but we should hope for a "do nothing" Congress.
DISCLAIMER: The opinions expressed herein are solely those of the author and should not, in any way, be attributed to the management nor employees of Orange Coast Title nor any of its subsidiaries or affiliates.

SOURCES: LA Times, OC Register, Fresno Bee, Sacramento Bee, San Bernardino Sun, San Diego Tribune, Wall Street Journal, NAR, CAR, NAHB, MBA, CBIA, & CMBA.