What's Hot and What's Not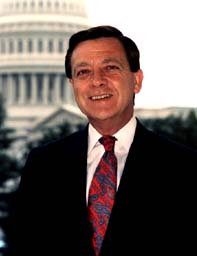 Volume 24 Issue 6
June 2018
---
By:
U.S. Senator John Seymour (ret.)
NATIONAL ECONOMY: The U.S. Department of Commerce has reported that the first quarter Gross Domestic Product (GDP) has been revised to 2.2%. That's down from their original estimate of 3.3%.
Although we always want higher and stronger economic growth, President Trump's personal GDP projection calls for 3.5% to 4%, that's despite his own White House Council of Economic Advisors predicting 3% to 3.5%.
Through April, all economic indicators show "GREEN." The national unemployment rate registered 3.8% in May, that's down from 3.9% in April. That's the lowest unemployment in 18 years. 223,000 new jobs were created in May!
Incomes of American workers rose 0.3% in April, following a similar increase in March. Consumer spending rose 0.6% in April. That betters the 0.5% increase in March and represent the sixth consecutive month of positive growth.
Inflation continues to be moderate, rising just 2% in April, that's consistent with Federal Reserve Bank projections.
The Institute for Supply Management (ISM), a well-respected economic forecaster, announced that its April ISM Index registered 57.3 for manufacturing and 56.8 for non-manufacturing. Historically, any Index reading above 50 is considered to represent positive growth for the next six months.
This "sunny" economic picture has some storm clouds on the horizon, a possible trade war with China, Mexico, Canada, France, Germany, England and other members of the European Union.
THE FED WATCH & MORTGAGE RATES: The Mortgage Bankers Association (MBA) reports that Home Loan Applications dropped 2.6% as of the week ending May 25. The 30-year fixed rate conventional home loan, with a 20% cash down payment rose from 4.77% to 4.86% and loan origination fees rose to 0.52% from 0.50%.
The Mortgage Credit Availability Index (MCAI) which measures the ease or tightening of loan restrictions rose to 177.9 in April, representing a 1.9% increase for Conventional Loans while the MCAI for FHA/VA loans decreased 1.4%.
Jerome Powell, New Chairman for the Federal Reserve Board and his merry band of interest rate setters next meet on June 12th and 13th.
Expectations are that they will raise the rate on borrowings from the Federal Reserve by 0.25% to 0.50%. That action, if taken will set the borrowing rates at 1.75% to 2.00%.
WHITE HOUSE DECLARES TRADE WAR: President Trump announced, in March, the implementation of tariffs on American steel and aluminum products. The tariffs effective at, midnight May 31st, would be 25% on imported steel and 10% on imported aluminum.
Commerce Secretary Wilber Ross, confirmed the tariffs enacted by President Trump and said the President was acting on national security grounds, seeing a rising tide of imports as a threat to the domestic metals industry. "Without a strong economy, you can't have a strong national security," Ross said.
Officials from the three trading partners, Canada, Mexico, and the European Union, among Washington's closest allies for decades, have dismissed the idea that their shipments to American customers endanger the United States and some prominent Republicans attacked the tariffs as wrongheaded.
"This is dumb. Europe, Canada, and Mexico are not China, and you don't treat allies the same way you treat opponents," said U.S. Senator Ben Sasse (R-Neb.) "We've been down this road before—blanket protections are a big part of why America had a Great Depression. "Make America Great Again," shouldn't mean "Make America 1929 Again."
"We are deeply disappointed that the U.S. has decided to apply tariffs to steel and aluminum imports from the EU on national security grounds. The UK and other European Union countries are close allies of the U.S. and should permanently and fully exempt from the America measures on steel and aluminum," Britain said in a statement.
"We will defend the UK's interests robustly. We continue to work closely with our EU partners and will consider carefully the EU's proposals in response." French President Emmanuel Macron has couched Trump's tariffs as a "nationalistic retrenchment" reminiscent of Europe in the 1930's.
Germany has perhaps the most to lose among the EU nations if the spat escalates into a full-blown trade war. Although the U.S. market amounts to a low single-digit percentage of German steel industry output, German politicians and industry groups have said they are concerned that tit-for-tat measures could end in damaging tariffs on foreign automobiles, an outcome that Trump has repeatedly threatened.
While Trump's tariff policies cheered American steel producers, companies that use imported metals said that it endangered U.S. jobs and investment. Auto parts makers said that they rely upon global supply chains and sometimes can buy their specialty steel and aluminum from only one or two sources worldwide. "Our members could face having to pay double tariffs on some materials necessary to manufacture parts in the U.S., said a statement from the Motor & Equipment Manufacturer's Association.Industries like ours, which require long-term investments in facilities and employees, depending on regulatory and market stability. These actions have thrown all of that up in the air."
U.S. Senator Patrick Toomey (R-Pa) tweeted "Bad news that @POTUS has decided to impose taxes on American consumers buying steel and aluminum from our closest allies—Canada, the EU, and Mexico, with whom we run a trade surplus on steel. In addition to higher prices, these tariffs invite retaliation."
The U.S. Chamber of Commerce blasted the Trump tariff proposals as "protectionist" and creating the potential loss of 2.6 million American jobs. Tom Donohue, President of the U.S. Chamber said that to pull out of the North American Free Trade Agreement (NAFTA) will cause the loss of 1.6 million American jobs.
Last week, Vice-President Mike Pence called Canadian Prime Minister Trudeau prior to a scheduled negotiating meeting on NAFTA and informed him that a pre-condition to their meeting would have to be a five-year "no cancel" stipulation. Trudeau canceled their meeting.
Trudeau has said that calling Canada a national security threat to the United States is "inconceivable," noting that "many Canadians have died alongside U. S. soldiers in joint military operations over the years."
In retaliation, Canada will impose tariffs on July 1st that will include $16.6 billion of farm goods and metal products.
Mexico responded to the Trump tariffs with proposed tariffs on American products including pork bellies, apples, grapes, blueberries and flat steel. EU leaders have drawn up proposed tariffs on American blue-jeans, Kentucky Bourbon, and Harley-Davidson motorcycles.
In a separate trade war with China, Trump proposed $50 billion of tariffs on Chinese goods for intellectual property theft, but after Beijing vowed it would match the U.S. tariffs, President Trump proposed "tripling" the duties on $150 billion of Chinese imports.
"if the U.S. ups the ante and this doesn't remain just a steel issue, particularly with Canada, Mexico, and the EU, then that would signal to me that we are spinning out of control," said Douglas Irwin, an economics professor and trade historian at Dartmouth College. He added, "I can understand, in some sense, the administration starting a trade war with China, but it is Enormously damaging and counterproductive to start a trade war with Canada, the EU, and Mexico."
The U.S. Business Roundtable made up of representatives of America's largest Corporations side with the U.S. Chamber of Commerce and estimated the loss of 1.6 million American jobs if NAFTA negotiations fail.
"It's more than highly unusual. It's unprecedented to have gone after so many U.S. allies and trading partners, alienating them, and forcing them to retaliate," said economist Douglas Irwin, author of a history of U. S. trade policy since 1763. "It's hard to see how the U.S. is going to come out well from this whole exercise."…..Stay tuned…..
NATIONAL HOUSING MARKET: New home sales in April slipped 1.3% compared to the previous month of March and were down 2.1% compared to April of 2017, according to the National Association of Home Builders (NAHB). Existing home sales decreased 2.5% in April compared to the previous month and slipped 1.4% compared to April of 2017.
Lawrence Yun, Chief Economist for the National Association of Realtors (NAR), said: "The root cause of the underperforming sales activity in much of the country so far this year continues to be the utter lack of available listings on the market to meet the strong demand for buying a home."
Yun, further elaborated, "Realtors say the healthy economy and job market are keeping homebuyers in the market for now even though they face rising mortgage rates. However, inventory shortages are even worse than in recent years and home prices keep climbing above what many home shoppers are able to afford."
The median price of an existing home in April was $257,900, that's up 5.3% from April of 2017 and marks the 74th straight month of year-over-year gains."
Total unsold inventories of existing homes for sale increased by 9.8% in April; however, it is still 6.3% lower than one year ago. Unsold inventory is at a 4.0 months' supply at the current sales pace.
First-time homebuyers represented 33% of total sales, all-cash sales represented 21%, and distressed sales, foreclosures and short sales made up 20% of total sales.
CALIFORNIA ECONOMY: According to California's Economic Development, the unemployment rate for April was 4.2%. That represents a record low since 1976.
Employers added 39,300 new jobs in the Golden State. The construction industry added 10,000 new jobs in April, followed by professional and business services with 8,500 and trade, transportation and utilities with 6,900 new jobs.
Only one industry reported job losses, manufacturing lost 1,400 jobs in April.
The five counties with the lowest unemployment rates were San Mateo, 2%, San Francisco, 2.1%, Santa Clara, 2.4%, San Luis Obispo, 2.6% and Orange, 2.6%. The five counties with the highest unemployment rates were Colusa, 15%, Imperial, 14.4%, Tulare, 9.2%, Plumas, 9.0%, and Merced, 8.7%.
According to the Associate Press (AP), California is now the 5th largest economy in the entire world, recently surpassing the GDP of England. GDP for California in 2017 was $2.7 trillion. California last held this distinction in 2002 and has ranked as low as 10th in 2012.
However, the golden state with the 5th largest economy in the world has the dubious distinction of having the largest percentage of its population, 20.4%, living below the national poverty level and the largest number of homeless in the nation.
I find it inconceivable and unconscionable that such a wealthy state can't support it's working class and are unable to find ways to house it's homeless. California's economic profile is more like that of a "third world" country than a world leader.
At the root of California's economic paradox is our high cost of housing. The bottom quartile of family incomes in California spends 67% of their incomes on housing.
Between 1970 and 1980, California housing prices went from being 30% higher than the rest of the country to, a whopping 80% higher! Since then, housing prices have continued to explode.
Having been a Realtor from 1964 to 1982 and having been President of the California Association of Realtors in 1980, I've been a personal witness to this economic and social disaster.
In 1980, I and the California Association of Realtors launched a "pro-housing" campaign entitled, "Where Will Our Children Live." I traveled the state, sharing CAR's message and sounding the alarm. We met with elected officials, both local and state, urging them to consider solutions to this crisis.
Looking back, my failure to convince political and elected officials was in underestimating the political power of "NIMBYISM," Not In My Backyard." The NIMBYs threatened local mayors and councilmembers with the loss of their offices and the "threats" resulted in denied or greatly diminished housing growth.
At the State level of government, extreme environmentalists were successful in legislation "CEQA." The California Environmental Quality Act of 1970 provided the legal means to defeat, delay, and destroy 10's of thousands of new housing projects across the state.
Governor Brown recently expressed the damage done by CEQA and the need to amend and restrict its impact. However, the Governor does not have the political will to challenge the anti-housing aspects of CEQA.
The economic damage to the Golden State, caused by the housing crisis, has begun with an exodus of working families moving to states like Nevada, Texas and North Carolina. Following the family, the exodus is that of employers who have tired of California's overburdening taxes and extreme environmental regulations.
Perhaps, our political leaders have forgotten the laws of capitalism. Capitalism has no conscious and no loyalty. Capital seeks the only opportunity. California's opportunity has been slipping away and doesn't appear to want to change. Hopefully, positive political leadership can change its' destiny…..
DISCLAIMER: The opinions expressed herein are solely those of the author and should not, in any way, be attributed to the management nor employees of Orange Coast Title nor any of its subsidiaries or affiliates.

SOURCES: LA Times, OC Register, Fresno Bee, Sacramento Bee, San Bernardino Sun, San Diego Tribune, Wall Street Journal, NAR, CAR, NAHB, MBA, CBIA, & CMBA.